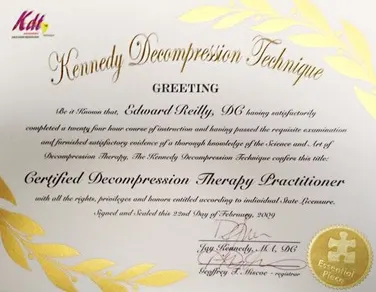 Fairview Chiropractic Center and Dr. Edward Reilly can provide many chiropractic care options for people throughout the Fairview, NC area. For example, we can help with decompression therapy to help relieve your pain and balance your health. Understanding this care option can help you decide if it is right for you and ensure you get the treatment you need to stay healthy and supported.
What is Decompression Treatment?
Spinal decompression is a care method that carefully stretches or decompresses your spine. Many people have a compressed spine due to gravity, aging, and poor posture. This compression can cause pain to spread throughout the body and may cause persistent and troubling health issues.
However, Fairview Chiropractic Center and Dr. Reilly can provide decompression to relieve leg and back pain and improve your overall strength. This care method follows a specific pattern that helps to increase your back strength, including diagnosing what is affecting you and finding a therapy method that makes the most sense for you. Some manipulation may be necessary before we try decompression on your back.
This treatment typically includes a traction device that helps redirect and decompress the spinal cord in the proper areas. Non-surgical care like this helps to relieve pain and can even improve posture. Physical modalities after decompression therapy in Fairview, NC, are a common way of enhancing this therapy.
Problems It May Treat
Decompression can help with many different back health problems and provide long-term benefits, making this therapy a good choice for many people. Our chiropractic team will diagnose which option works the best for you. Just a few of the most common problems that it can help treat include issues like:
Herniated Discs: Decompression can help relieve pressure on the discs of your spinal cord and provide long-term relief for your back health.
Pinched Nerves: A pinched nerve can be incredibly painful if left untreated. Thankfully, our decompression treatment can help minimize your suffering.
Other Disc Pains: Decompression may help with degenerative disc disease and improve your overall back health.
Decompression is a powerful non-surgical option that can ensure you get the recovery help that you need. It can help you to avoid open-back surgeries and provide you with pain management help that can make physical therapy, exercise, and stretching easier.
How We Can Help
At Fairview Chiropractic Center, Dr. Reilly uses two state-of-the-art Kennedy decompression axial traction tables and is an expert in this treatment. He has performed over 1,000,000 decompression during his 20-year career. So if you want expert-level decompression therapy in Fairview, NC, call us at 828-628-7800 to learn more about the many methods available to you.
---
Dr. Reilly completed the Kennedy Decompression Technique course and passed the qualifying examination to achieve the status of "Certified Practitioner" in spinal decompression therapy. He presented this traction therapy approach to local neurosurgeons, orthopedic groups and MD's who often refer patients to him for treatment of disc problems.