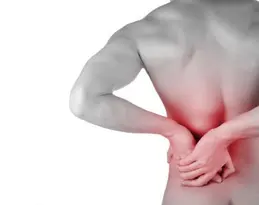 Pain along the spinal column in your back is usually caused by subluxations, or misalignments of your vertebrae. A small misalignment can cause pain by causing pressure on nerves. Left untreated, these subluxations can cause muscle spasms and increasing pain. Chiropractic adjustments properly align your spine so that pressure on joints and nerves is released. It is a direct treatment for the cause of the pain, not a temporary relief like pain relievers or massage. If you are experiencing back pain visit us today.
No Pain Medication & No Surgery
"After spending the last 19 years working as both a sedation and emergency room RN, I found myself developing intense lower back pain and a numbness/tingling sensation in my right lower leg/foot. The symptoms progressively got worse, especially at work while moving and/or transporting patients. I initially wrote the pain off as kidney stone related, since I had passed three in just a few months. However, a CT scan revealed that not only did I have kidney stones but I also had three herniated lumbar discs and two complete fractures of the L4 pars aspect of my vertebrae. These conditions had caused my spine to move forward approximately 10-12mm. This condition is referred to as a Spondylolisthesis. After speaking to the ER doctor, my PCP, and an orthopedic surgeon, it appeared that spinal fusion surgery was inevitable. As a former martial arts instructor and wrestling coach, the thought of being limited in my activity was not only disheartening but completely unacceptable to me. Shortly after my diagnosis I returned with my family back to Asheville and researched all local chiropractors. I found myself at Dr. Reilly's office, which I feel did not happen just by chance. After only six months of treatment, I have made tremendous improvement and I am now over 90% recovered and my lumbar spine is now only 2mm out of place. I feel as though the recovery has been nothing short of miraculous as I remain optimistic that through continued chiropractic care, proper diet, and exercise that I can return to 100%. He also helped me make full recovery after a recent motor vehicle accident where I sustained cervical neck trauma. I would like to sincerely thank Dr. Reilly for all of his treatment and disseminated knowledge. This gentleman is extremely knowledgeable and passionate about his life's work and I feel both fortunate and blessed to be his patient."
- Paul B. RNBSN