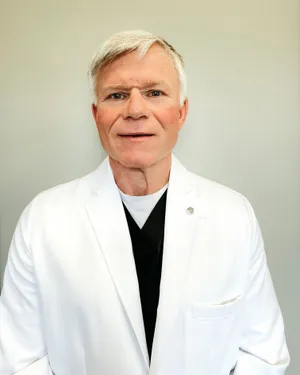 Chiropractor Edward Reilly D.C., BA, MBA, DC, CCSP, FIAMA
A New Jersey native, Dr. Reilly (Edward G. Reilly BA,MBA, DC, CCSP,FIAMI,KDT-C, GT-C0 had a successful career with a Fortune 500 company, managing a team of 50 employees and traveling the country. However, he repeatedly felt a calling to a different life and career, although he was initially unsure exactly what he was being called to do. Two extremely dramatic and positive experiences in a chiropractic office lead him to believe that the life of a healer was his true vocation. He quit his job, sold all his possessions, and moved to Georgia to attend Life University of Chiropractic. He graduated with honors in 1996, and opened his practice in Fairview, NC in 1998.
Since that time, Dr. Reilly has dedicated himself to providing not only the finest traditional chiropractic care but also providing his patients with the very latest in cutting edge technology so that they might experience optimum healing and symptom relief. To that end, he has completed an additional 4,000 hours of post-doctoral training in medicine. He offers, and is certified in, therapies such as Graston Therapy, LiteCure Class 4 Laser therapy, Trigenics, Advanced Functional Neurology, Spinal Decompression Traction, and PEMF NRG therapy. Many of these therapies are found primarily in pro sports team locker rooms--but you too can receive the same treatment as a top NFL player in Dr. Reilly's office. Dr. Reilly has delivered over 1.000 health lectures, including being selected to speak at the last 2 international conferences on PEMF and neuropathy. He was President of the NC Chiropractic Association in 2013, and was named Doctor of the Year by the organization that year.
Dr. Reilly has two children, Connor, a sophomore engineering major at UNCC, and Leia, a high school senior and aspiring flutist. As an avid runner, cyclist, and hiker, Dr. Reilly understands - and strives to educate his patients on - the role exercise and proper nutrition play in achieving optimal health. He has been an Associate of the International Foundation for Nutrition and Health since 1999 and offers the latest in supplements and exercise devices, such as the Posture Pulley.
Dr. Reilly's caring spirit extends beyond his practice. Active in the community, he sponsors many nonprofit organizations, is an active volunteer for many others, and sits on the board of Food for Fairview, a local food pantry. He serves as team chiropractor for the AC Reynolds High School football team. In addition, he participates in many community organizations, such as the Fairview Business Association.
If you're searching for the latest in cutting edge medical technology combined with old fashioned values in a caring environment, then look no further than Dr. Edward Reilly and Fairview Chiropractic Center

Certified Chiropractic Sports Physician-CCSP
Fellow International Academy Medical Acupuncture-FIAMI
Kennedy Decompression Technique-Certified-KDT-C
Graston Technique-Certified-GT-C
Licensed Trigenist
Past President North Carolina Chiropractic Association
Doctor of the Year 2013 NCCA
Click here to read an article written about Dr. Reilly in WNC Woman Magazine!